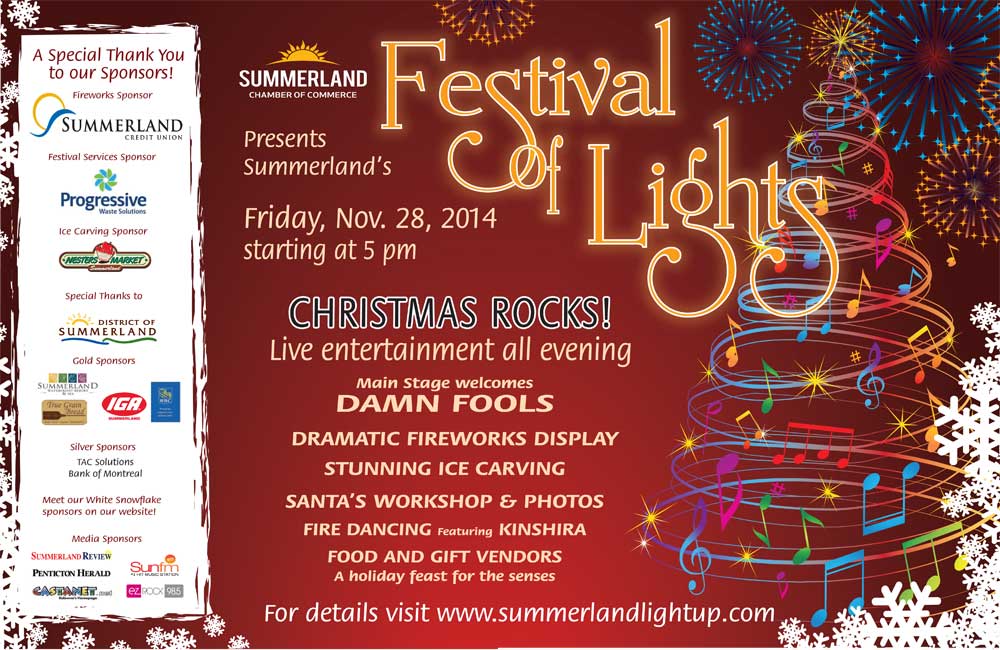 Sched­ule of Events 
5:00pm — Santa arrives! Watch the Santa pro­ces­sion down Main Street
5:00pm– 9:00pm: Down­town mer­chants, Gift and food ven­dors open to wel­come fes­ti­val goers
5:15pm — Main Stage enter­tain­ment starts on Main Street:
Sum­mer­land Children's Choir and Montes­sori School Choir
Trout Creek Ele­men­tary School Choir
Our Sons

DAMN

FOOLS

(on stage fol­low­ing lightup countdown)
Events run­ning all evening:
Twit­ter Wall at Main Stage (#slandlightup)
Pho­tos with Santa at Full Cir­cle Outlet
Santa's Work­shop Craft event at Sum­mer­land Credit Union
Let­ters to Santa at the Post Office
Three ice carvers cre­at­ing sea­sonal ice sculptures
Sea­son Sparkles at Sum­mer­land Art Gallery
Fish­ing Pond children's game at Peanut

&

Pump­kins Kids Shop, Vic­to­ria Road
Annual Chilli Night at

IOOF

Hall on Main Street
Photo Booths (#slandlightup)

ATV

train in Memo­r­ial Park
Pony Rides in Memo­r­ial Park
Sum­mer­land United Church events: Mac n' Cheese din­ner, Wheel of For­tune, Kids Zone with

CD

Mak­ing and Crafts.
Three bouncy cas­tles: Dino Cas­tle, Avalanche Moun­tain, and a 30-foot long Firetruck
Live music at the Bean­ery Cafe
Live music at Sweet Tooth Cafe on Vic­to­ria Road
Wan­der­ing street performers

"

Pedal Power" light instal­la­tion and jumbo scrab­ble on Main Street and Kelly (site of new Sum­mer­land Library in 2015)
7:00pm LIGHT-UP! Thou­sands will count down to the dra­matic moment when all of the down­town hol­i­day lights are switched on.
8:30pm — FIREWORKS! Head to Kelly Street to watch the stun­ning fireworks.
8:50pm — FIRE DANCING! After the fire­works, head back to Main Stage for a beau­ti­ful fire dance dis­play by Kin­shira Per­for­mance Troupe.
9:00pm — Stay out later! Live music con­tin­ues at The Bean­ery Cafe until 9:30pm.