To make sure every­one has an amaz­ing time on Fri­day we need to set up the stage area on Henry Avenue between Whar­ton and Main from 8am. Also, we will be clos­ing access to Vic­to­ria Road between Whar­ton and Jubilee and Main Street between Vic­to­ria and just past the new library from 2.30 pm on Fri­day. For alter­nate park­ing check here.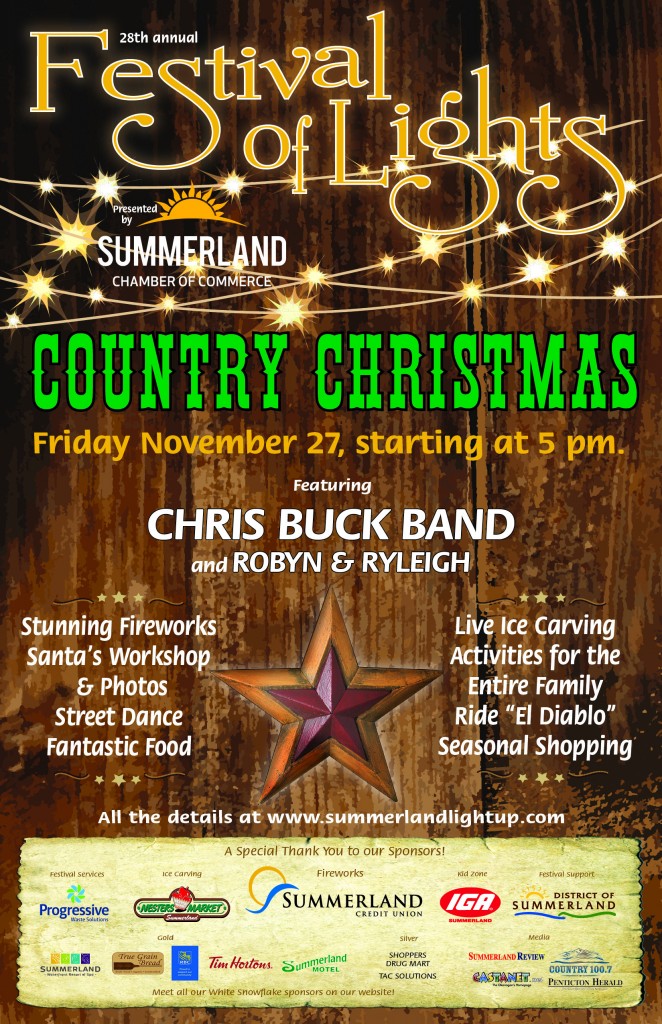 Put on your danc­ing shoes because on Fri­day, Novem­ber 27th atten­dees of the Fes­ti­val of Lights in down­town Sum­mer­land will be treated to a 'Coun­try Christ­mas'. The Fes­ti­val of Lights is the pre­mier hol­i­day event to kick off Christ­mas in the South Okana­gan and reg­u­larly attracts approx. 6000 guests.
We are excited to announce that this year's Main Stage per­form­ers are the Chris Buck Band and Robyn and Ryleigh.
Chris Buck Band was the BC Coun­try Music Association's 2014 Country Club Act of the Year, open­ing for such artists as Sam Hunt and per­form­ing at some of Canada's biggest music fes­ti­vals, includ­ing the Rockin' River Music Fest and Sun­fest. The Lower Main­land band's live shows are an ener­getic mix of a country/reggae/rock sound that make danc­ing easy.
Also per­form­ing will be Robyn & Ryleigh, an emerg­ing country/pop duo from Lan­g­ley, who recently signed to Roy­alty Records (Sony). The song­writ­ing sis­ters have a sound that blends tra­di­tional acoustic coun­try and mod­ern rock with an upbeat mood.
So embrace the Coun­try spirit by wear­ing your cow­boy boots and hats.
The 28th annual Light Up wouldn't be com­plete with­out the amaz­ing dis­play of fire­works and inter­ac­tive ice sculp­tures cre­ated live dur­ing the evening. 2015 will also see the return of fes­ti­val favourites such as Santa's work­shop and pho­tos with Santa, the Kid Zone and other activ­i­ties with a Coun­try twist.
The Fes­ti­val of Lights 2015 is proud to wel­come back its key part­ners the Dis­trict of Sum­mer­land, Sum­mer­land Credit Union, Pro­gres­sive Waste Solu­tions, Nester's Mar­ket and IGA Sum­mer­land and its gold spon­sors, The Sum­mer­land Water­front Resort, RBC Royal Bank, True Grain Bread and The Sum­mer­land Motel.
Full details and updates are avail­able here on our web­site, and on Face­book at Sum­mer­land Fes­ti­val of Lights. We also have our What's on Guide 2015 for you to print off!
Head­lin­ers
Chris Buck Band
Robyn
&

Ryleigh

Sched­ule of Events 
5:00pm – 9:00pm: Down­town mer­chants, Gift and food ven­dors open to wel­come fes­ti­val goers
5:00pm — The Santa Claus Parade begins! See cow­girls, some of the char­ac­ters from Frozen, stilt­walk­ers and even Santa himself!
5:15pm - Main Stage enter­tain­ment starts on Main Street:
5:15 pm               Trout Creek Ele­men­tary School Choir
5:30 pm              Beamer Wigley
6 pm                   Robyn

&

Ryleigh
6:50

&

 7:01 pm  Montes­sori School Choir
7:15 pm              Chris Buck Band (on stage fol­low­ing light up countdown)
7:00pm LIGHT-UP! Thou­sands will count down to the dra­matic moment when all of the down­town hol­i­day lights are switched on.
8:30pm - FIREWORKS! Head to Jubilee Rd. to watch the stun­ning fireworks.
Events run­ning all evening:
Twit­ter Wall at Main Stage (#slandlightup)
Pho­tos with Santa
Ice Sleigh: From 5–7 pm carvers will be cre­at­ing a 4-seater inter­ac­tive sleigh ice sculp­ture in front of Nester's Mar­ket. Get your photo taken on the sleigh!
Santa's Work­shop Craft event at Sum­mer­land Credit Union
Let­ters to Santa at the Post Office
Ice Carv­ing: Along with a 4-person ice carved sleigh at Nesters, a sec­ond carver will be sculpt­ing a Coun­try themed piece on Main St. by Just Deli­cious Sushi.
Bot­tle­neck Drive tast­ing room — Sum­mer­land Gold

&

Sil­ver Exchange
Sea­son Sparkles at Sum­mer­land Art Gallery
Fish­ing Pond children's game on Vic­to­ria Road.
Annual Chilli Night at

IOOF

Hall on Main Street
Games and Activ­i­ties at the United Church (Henry Ave)
Photo Booths

&

Boards (#slandlightup)

ATV

train in Memo­r­ial Park
Pony Rides in Memo­r­ial Park
Two bouncy cas­tles: Dino Cas­tle, and a 30-foot long Firetruck
Ride "El Dia­blo": Post Office Park­ing Lot until 9 pm.
Wan­der­ing street performers.