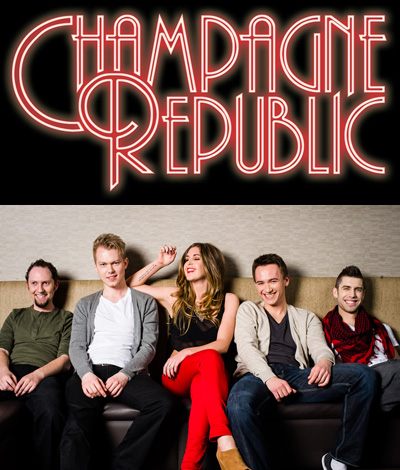 A high-energy com­bi­na­tion of Soul, funk, and R&B are head­ing to Sum­mer­land on Novem­ber 29, in the form of Cham­pagne Repub­lic, the Van­cou­ver band that has been attract­ing fans in waves since the band's for­ma­tion in the spring of 2012.
Already the band has become known for their lively per­for­mances, estab­lish­ing a ded­i­cated fan­base of music lovers who share the band's love of artists like Joss Stone, Adele, Aretha Franklin and John Legend.
As in 2012 when Andrew Allan vis­ited Sum­mer­land for Light-up, stu­dents at Sum­mer­land Sec­ondary School can once again look for­ward to an exclu­sive after­noon con­cert and Q&A ses­sion with this up-and-coming band.
Cham­pagne Repub­lic will take to Main Stage just after the lights are turned on at 7pm. Make sure you're down­town to join what the band calls the Cham­pagne Repub­lic "state of mind."