This year we are excited to once again bring the best in emerg­ing mod­ern Coun­try tal­ent with Main Stage per­form­ers

ME

AND

MAE

, sup­ported by new tal­ent Lisa Nicole, pre­sented by our new spon­sor,

RE

/

MAX

Orchard Coun­try. We are also happy to announce some of our local tal­ent is play­ing, with Groundswell and two of our local children's choirs tak­ing the stage dur­ing the evening. 
Me and Mae
"Their vocal excite­ment and har­monies are top notch and they can deliver it live as well. There is some musi­cian­ship here that is caus­ing atten­tion in the indus­try to say the least."

Me and Mae has been tour­ing exten­sively across Canada, play­ing fes­ti­vals such as Sun­fest, Rock­ing River, Craven Coun­try Jam­boree, Have­lock Coun­try Fest whilewrit­ing new music with promi­nent pro­duc­ers to help take their sound to the next level. Work­ing with the likes of Jeff John­son (Wes Mack, One More Girl, The Chris Buck Band) and Dan Swin­imer of Man­ic­down Pro­duc­tions (Made­line Merlo, JoJo Mason, Tim Hicks), Me And Mae con­tinue to evolve as a force to watch.Their lat­est sin­gle, "Feel Good Feelin'" puts a spot­light on Shawn and Ashley's pop-country vocals and the band's abil­ity to cre­ate Zac Brown Band-esque harmonies.
Lisa Nicole
As the 2015 win­ner of the BC Coun­try Music Association/Music BC Artist Devel­op­ment Project, Lisa Nicole is poised to become the West Coast dar­ling of the Cana­dian coun­try music scene with the release of her break­through EP, Come Find Me.
Defined by story-driven lyrics fused with a mod­ern coun­try sound and a care­free stage pres­ence, Lisa Nicole has earned warm admi­ra­tion from fans and deep respect from indus­try peers and play­ers alike who value her tire­less work ethic, her fun-loving per­son­al­ity, and her grow­ing accom­plish­ments as a true musi­cal self-starter.
Hail­ing from the moun­tains and nature of small-town Castle­gar, British Colum­bia, Lisa Nicole grew up hunt­ing, fish­ing, camp­ing and embrac­ing coun­try music. As her authen­tic coun­try upbring­ing was sprin­kled with the sweet sounds of Sha­nia Twain, Mar­tina McBride, and the Dixie Chicks, Lisa Nicole dis­cov­ered her own love of singing at the age of 8. By 15, she was play­ing reg­u­lar jam ses­sions at Kootenay-area bars, which required her to be escorted on and off stage due to her under­age status.
As Lisa Nicole's career upswing sent her to the main­stages of Sun­fest, Rockin' River Fest, The Cal­gary Stam­pede, Stur­gis North Music Fest, Cana­dian Music Week and the Cloverdale Rodeo, she enjoyed a ban­ner year in 2015. Lisa per­formed at the 2015 BCCMA awards along with a pair of nom­i­na­tions for Female Vocal­ist and Coun­try Club Act of the Year. Included in the ADP priz­ing was a song­writ­ing trip to Nashville and a spot in the Canada's Music Incu­ba­tor 10-week 'Artist Entre­pre­neur Pro­gram' in Toronto. Recently, Lisa has been nom­i­nated by her peers for Female Vocal­ist of the Year at the 2016 BCCMA Awards.
Visit Lisa Nicole on her Face­book, Insta­gram and Youtube chan­nels for more infor­ma­tion on her amaz­ing sound!
Groundswell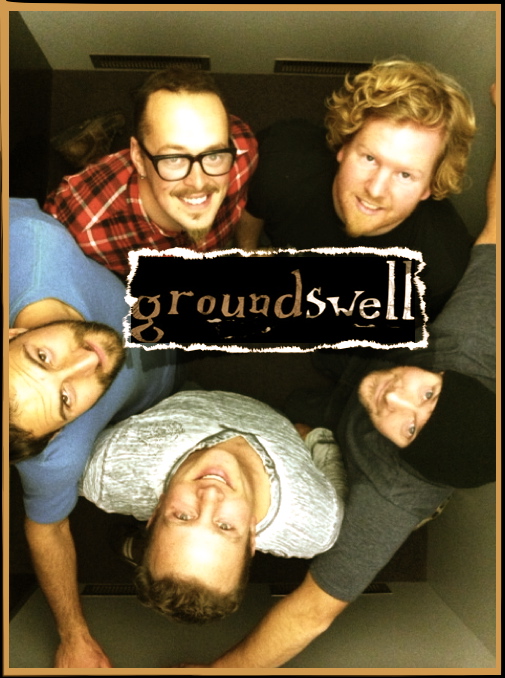 Hav­ing met in New Zealand, Brad Riemer and Justin Wiebe blended their voices and two gui­tars to cre­ate a nat­ural acoustic sound. After twelve years of writ­ing and play­ing music together, adding three friends who are like-minded musi­cians and giv­ing them­selves the name Groundswell, they now feel that they are just start­ing to dis­cover the poten­tial of their sound. Now, as a band, their musi­cal influ­ences range from folk and funk to blues and rock giv­ing Groundswell it's own unique feel.
 With his roots in blues, Luke Riemer uses his gui­tar to give audi­ble expres­sion to his own per­sonal emo­tion. Wether it's a well prac­ticed piece or an impro­vised solo, Luke brings focus and feel­ing when he plays.
 On bass, with his depth of under­stand­ing for the nature of a song, Jason Selles fills out the sound with tone and feel. Jason has invalu­able past expe­ri­ence that is evi­dent in his abil­ity to enhance the foun­da­tions of the Groundswell sound.
 Hav­ing been immersed in the music indus­try for years, Joe d'Aoust is a well-seasoned and mature musi­cian. Play­ing drums, Joe pounds out strong beats that are often not eas­ily pre­dicted and yet are superbly taste­ful. Fused with the Jason's bass, Joe's rhythm is the back­bone of Groundswell's dynamics